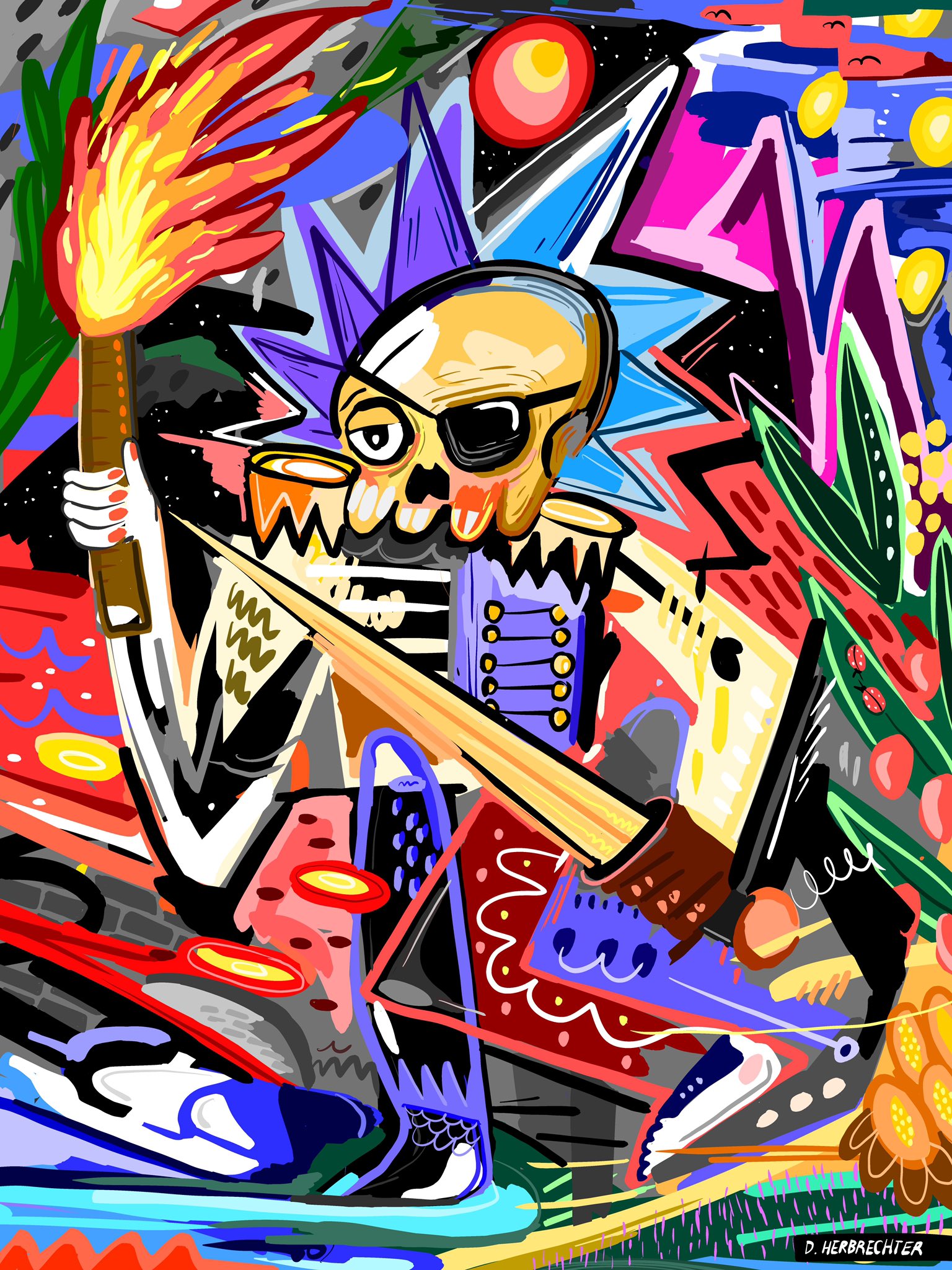 We are thrilled to announce Dr. Grinspoon as the first FaMorie Residency artist! You may be familiar with his work from when iwwon featured a derivative by Dr. Grinspoon as his pfp on twitter, or from his fantastically original Herbs collection. But his art career spans much more than that. We are excited to use this FaMorie Residency to allow you to better know these artists and discover more of their work! Dr. Grinspoon was kind enough to answer some questions about his history, web3 journey, and future.
Where are you from?
I'm working and living in Berlin Schöneberg, Germany.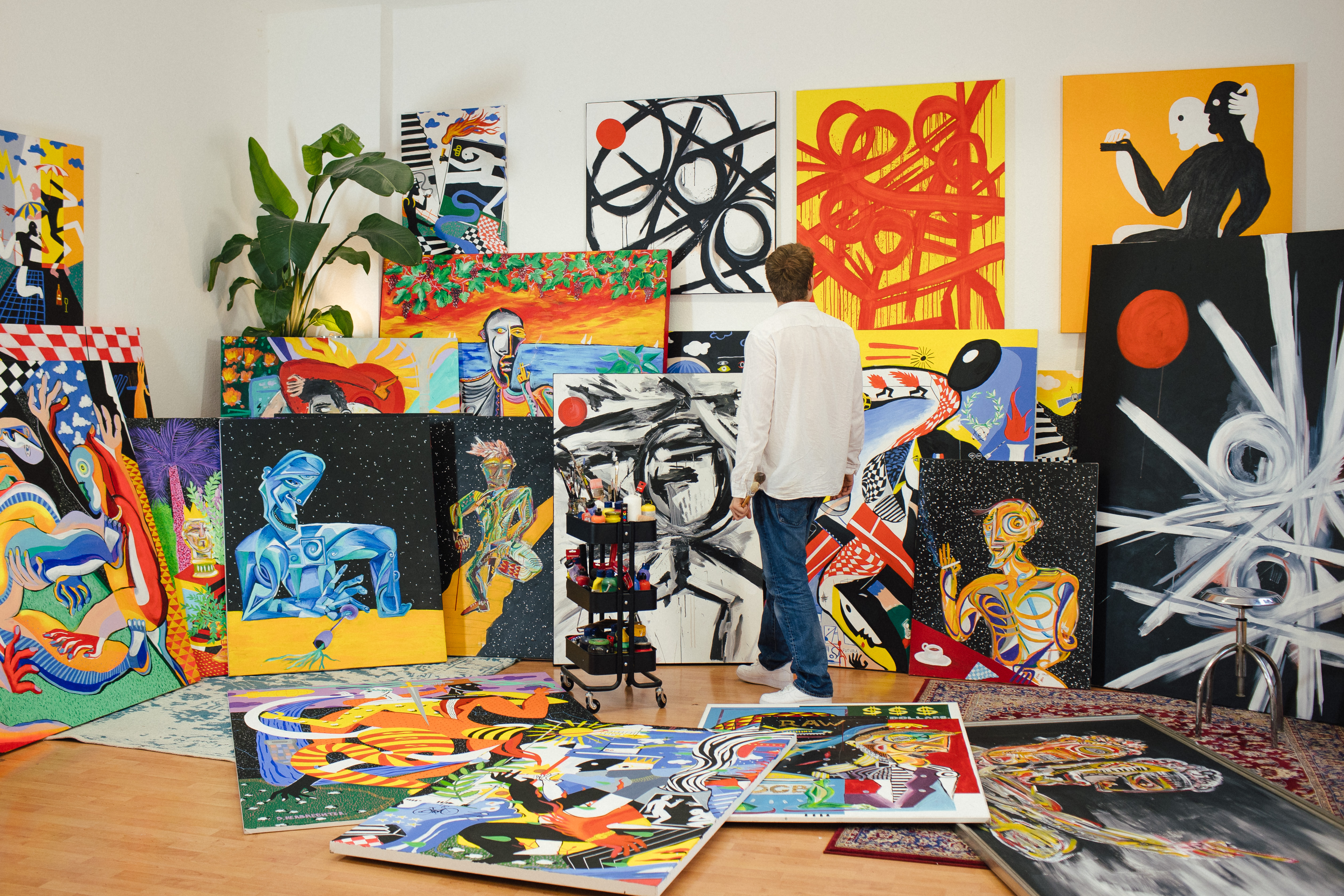 Tell us a little bit about your art journey prior to NFTs?
I was already fascinated and excited by art at an early age, I think that my father is responsible for this. He was a great history and art enthusiast and took me at an early age to the most diverse museums and churches in Europe. I loved comic drawing and graffiti at a young age and I had made the conscious decision at 16 to make "art". From that time I was always only with my drawing pad, pencils and chalk on the road. Since then, this passion has not left me. I have never studied "art", but it was always my constant. Now almost 10 years later I have my own gallery in Berlin and want to do it more than ever.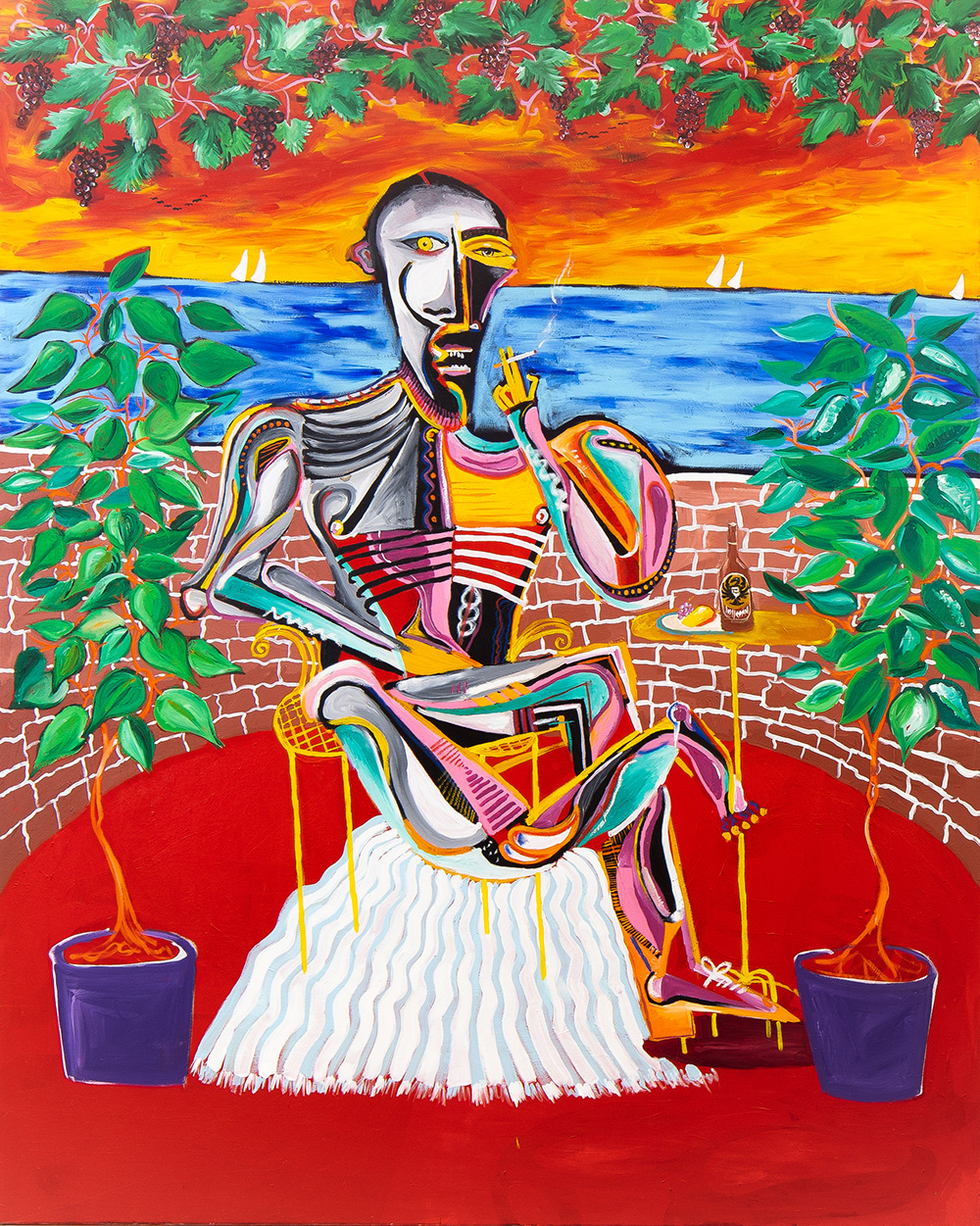 How did you discover NFTs?
How did I discover them the first time, hmm ? I think the first time I heard about it was in the beginning of 2021, but similar to crypto, which was also known to me since 2014, the whole crypto world was always a bit suspicious to me and also too complicated at that time. I would say things got busy in the summer of last year, the gallery business was somewhat complicated due to Covid, which is why I had some time to deal with it, I was a little lucky at the beginning because my then business partner was a crypto trader, which is why I got taught the crypto basics in a crash course. After that i just saw how deep the rabbit hole really is.
Did you understand the potential of NFTs right away? What ultimately convinced you?
No, definitely not. At the very beginning it was more the mad selling of Jpeg at enormously high prices. The potential opened up relatively quickly, and I was excited about the royalties, an open global art market, skipping the gallery owner, the direct contact with collectors. But also the simple version of establishing a digital copyright was very exciting.
What was the first NFT you minted?
My first NFT I minted was my own project sometime in October 2021, it was the BTC-Naut of my first collection Cryptonauten - just uplaoded him without a real plan.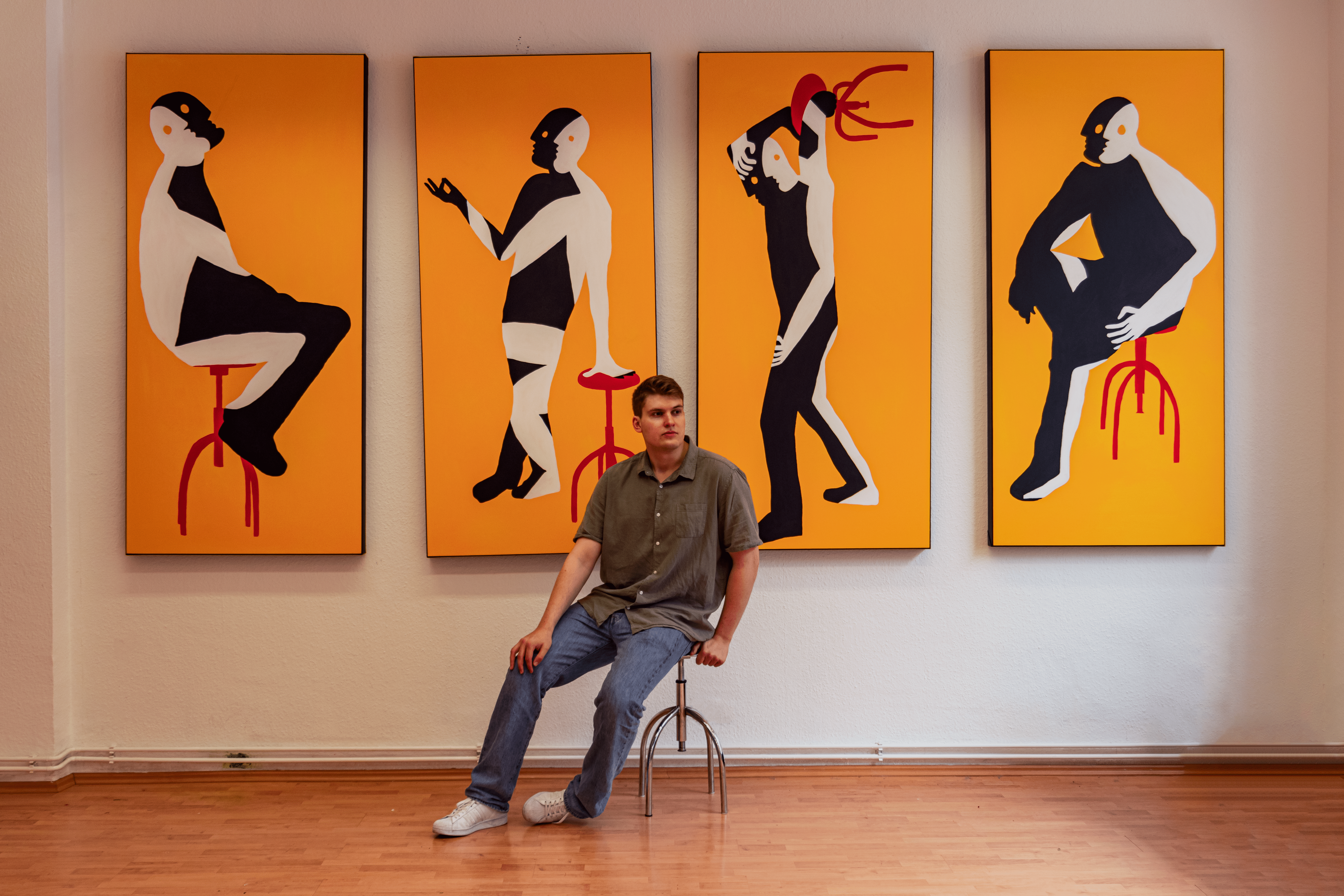 Do you have any big inspirations in the NFT space?
I would say I find the whole space very inspiring, because of its fast pace and the fact that we are still at the beginning and you have the feeling that you can really help to shape it. A great inspiration, hmm - is difficult for me, because I come more from the free art and the production of unique pieces but mostly stay in the collectibles area, where the artist is sometimes not really in focus. Who I find with a really a good balancing act and currently inspires me more and more is iwwon. Artist, hardworking, makes crazy 1/1, but also collectibles, and much bigger projects. But what really inspires me are communities and the people who make them up, which I have not experienced to this extent before. I have only noticed since I have a small one myself. It all started with the Herbs, the figure which accompanies me for years in my painting and pursuits. I have broken open and put together in laborious manual work individually, do not laugh, I just started then and many things did not understand :D. After 2 months, there were 500 pieces. Suddenly, despite non-existent marketing or strategy m, there were people who were interested and wanted to know more, buying the project and participating in the community. It helps motivate me daily to continue. I think that is actually the biggest motivation to be so close to the viewer. Accordingly, a shout out to all early believers and to all herbs - who accompany me on this journey and motivate me constantly.
But what really inspires me are communities and the people who make them up, which I have not experienced to this extent before. I have only noticed since I have a small one myself. It all started with the Herbs, the figure which accompanies me for years in my painting and pursuits.
What are you goals/dreams for the next few years?
Great question! I have a lot in mind what should be realized. And still a lot of unpublished work. But maybe more precise, more 1/1 artworks, larger collections, a gallery what brings Canvas and NFT together. Building a museum in the Metaverse. Showing Art overseas. Finding a way to bring analog and digital more together. Both in representation and in perception.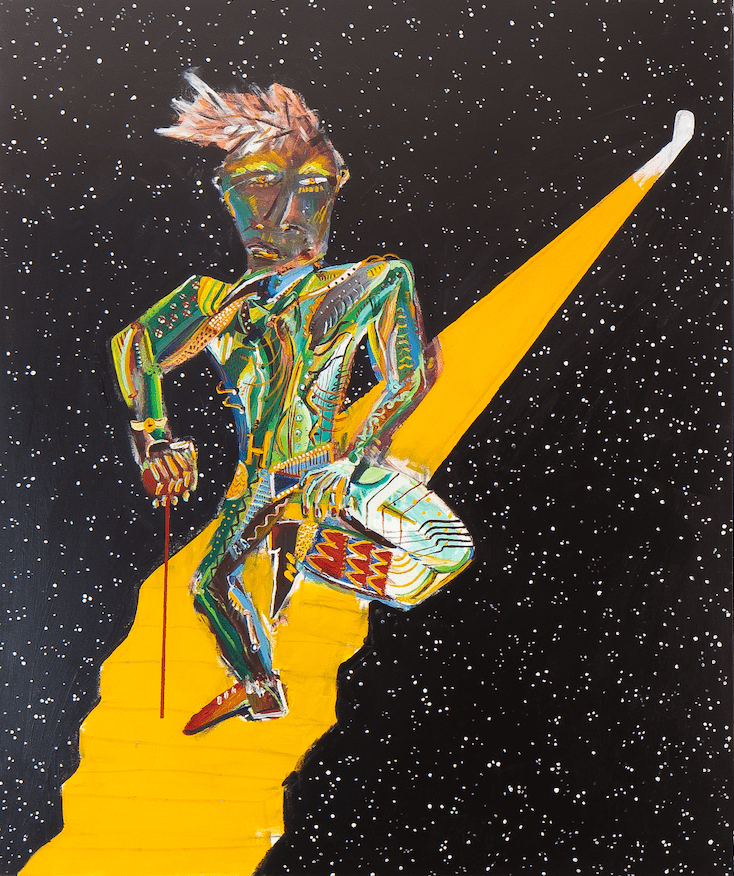 How did you discover CryptoMories?
I think discovering and joining was a very special moment. I saw the Mories back in November, but they were way over my budget at the time. I bought my first nft in January.... But I thought they were special then. Then 2 months ago there was a very interesting moment, I heard about the disappearance of the collection on Opensea and problems, as if someone was after the Mories, even though i didn't even own a Morie. - Dslim who has always told me about the Mories - then told me something about an Art Contest and shared it with me where they were giving a morie to the winner. At that time Russia also attacked Ukraine and I remember that we visited a Ukrainian friend and tried to give her spiritual support in this difficult situation. So I had a lot of emotions about the war, but also hope in my head, and all this then directly flowed into this image "the long dark night" - and that brought me to the Cryptomories.
What is your favorite Morie trait?
100% heart eye trait - just love
Discover more Dr. Grinspoon art:
Dr. Grinspoon on Foundation
The Herbs
Abstract Herbs
Hommage Collection
Cryptonauten Collection